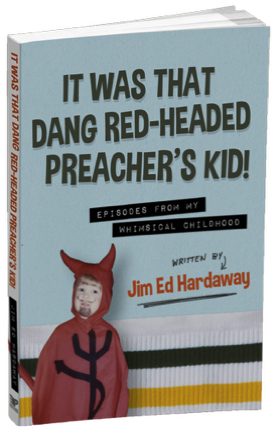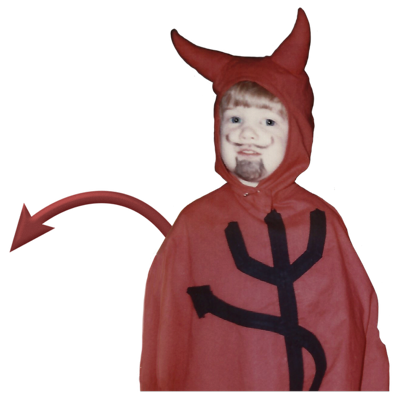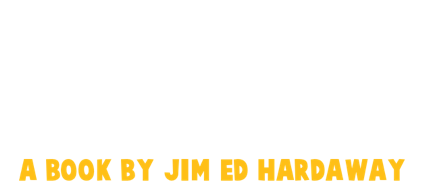 It Was That Dang Red-Headed Preacher's Kid!—Episodes from My Whimsical Childhood is a collection of memoirs from Jim Ed Hardaway's childhood—twenty-five entertaining chapters about growing up as a preacher's kid in the peculiar culture that is South Texas. Jim Ed began writing the episodes, in random order, starting in March 2009 with the waggish kindergarten story The Pledge of Allegiance Dare Master.
Between the covers of the book is a comical tale of mischief and misdemeanors—packed full of curiosity, pop culture, tribute, and surprises. The book spans Jim Ed's grade school through early high school years, and is a cleverly written string of essays that takes the reader on an addicting page-flipping adventure through the never-disappointing 70s and 80s.
From the hysterical Valley Girl Talk and Sunday School Prostitutes, to the heart-warming The Preacher, to the quirky Beetle Mischief, to the highly motivating Born To Rerun, the book is a mixtape of laughs, inspiration, and nostalgia. So, pause your Huey Lewis and the News cassette, kick off your checkered Vans, sit back in your bean bag chair, and enjoy the best thing since striped tube socks.
The Story Behind the Stories

"Life is a collection of stories we owe to the people around us." - Jim Ed Hardaway
Jim Ed Hardaway loves to write, reminisce, and make people smile. The result is That Dang Red-Headed Preacher's Kid!—Episodes from My Whimsical Childhood, a funny, inspiring, and reflective memoir with a small side of irreverence! He is a daydreamer, creativity junkie, scribbler, taco enthusiast, and advocate for recess. Jim Ed is a strong believer in the power of art and imagination and is always looking for the next creative idea and epic adventure. He and his wife live in the Texas hill country.
This self-described completist gets a kick out of persevering bicycle history by building and restoring 80s BMX bikes—under the banner "Gym Ed's Bike Shop." He also enjoys picking, collecting, traveling, creative design, and listening to his growing vinyl record and cassette collection from the 70s and 80s.
Check out MORE of his scribbles and wanderings at: www.JimEdHardaway.com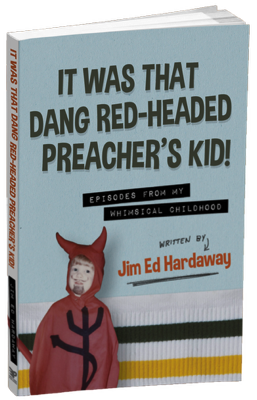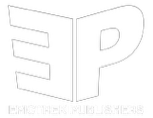 Funny, inspiring, and reflective with a small side of irreverence. This preacher's kid offers honestly written snapshots of antics and experiences that shaped a boy and built a man. You'll meet your own story through Jim Ed's words and almost be persuaded you, too, need two first names.
Visit the small Texas towns that become characters in the pages; feel the humidity and be romanced by the big hearts and Southern hospitality. Best read with a plate of tacos.
Marketing Blurb from the Back Cover
To request promotional photos for print and publishing purposes for use in articles, book reviews, and scholarly journals, please contact the publisher below.
Photos for Print and Publishing Purposes